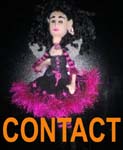 Angela Hallam would really like to include visitors' comments about all of her work, not only about the Football Mascots. So, if you've seen her craft items at Fairs, Horror and Comic Cons and perhaps bought one of her Fairies, some of her Revamp range, Bags and Cushions, let us know what you think.
| | |
| --- | --- |
| Angela Hallam | If the link doesn't work or those with Google Chrome ::: |
Chadderton Park FC
Hi Angela, I just wanted to say thanks very much for making such a wonderful slim griffin, the quality of your work is amazing, the link is some footage of Griff's charity abseil last sunday raising over £1000 for The Christie cancer hospital.  VIDEO HERE much appreciated, thanks Craig
Lincoln City Football Club: Poacher the Imp – Gary Hutchinson
One of the main differences (after quality of service and flexibility) between your service and others was the massive price difference. The product we got from you was very reasonable in price, as well as being designed to our specification inside and out. I think the personal aspect of your service is what sets you apart from everyone else, you listen, you know mascots from being around us and personally I wouldn't trust anyone else to make me a suit in the future. Without sounding too twee I'd say that the reason you're so good with the design and manufacture of the suits is because you understand the people inside them, you understand what we require, and you are then able to put a great design around a wearable shell.
Norwich City Football Club
Thank you for all your work on repairing our two Norwich Football Club mascot costumes over the last fortnight. Both are in excellent condition and ready for entertaining our crowd at Carrow road the next day… I will certainly contact you again…
Hockey Association
I must say again what a marvellous job you made of our lion – He's now been christened Milton
Highfield Holiday Park
Many thanks… superb quality of workmanship.
FM 102 (the bear) Stratford
The bear's fantastic, many thanks for a splendid job.
Aston Villa Football Club
I would like to write on behalf of AVFC to thank you for all the hard work and creative design of our recent 6 new character mascots…wonderful success with merchandise already been sold with them on… Hercules has had a new lease of life and is more popular than ever…. It was a pleasure to work with you on the mascots… as you met deadlines and generally gave us all the right advice to get them just right…. I would certainly recommend you to any sporting club if they were thinking of having a mascot made..
Silk FM Macclesfield
I've just returned to our office to be met by our bear… and what a bear it is… many thanks for making such a splendid job of it…

Privacy Policy

AngelaHallamDesigns.com does not use cookies! There are no cookies from AngelaHallamDesigns.com gathering information from your computer or adding something to your computer without your knowledge or permission!

We don't compile any lists to sell or share with any third parties.

Information you give us via the contact form wll be deleted once your query has been answered.
---
| HOME | ABOUT | NEWS | GUESTBOOK | MASCOTS | CREATIONS | VIDEOS | CONTACT |
Freelance Costume Designer: Copyright Angela Hallam: © 2003 - 2019
WEBSITE DESIGN BY: REMARKABLEEMPHASIS.COM